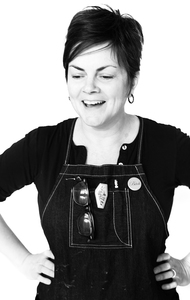 Leslie Walker Noell is an artist, designer, educator, and creative director at Penland School of Craft.
Studio work includes drawings and prints, collages and collections. Themes trace the fine line between permanence and impermanence, image and object, real and imagined place. Her work is minimalist in feel and direct in means; she strives for a balance of refinement and touch. Though days in the studio are rare, creative concerns are a constant.
Leslie earned a degree in graphic design from NC State University College of Design and an MFA from the University of Massachusetts, Dartmouth. She spent two years as a Core Fellowship student at Penland School of Crafts and also studied at the Academy of Arts, Architecture and Design in Prague. Leslie has been a resident artist at Caversham Press (Kwazulu Natal, South Africa), Jentel Artist Residency Program (Banner, WY), and the Hambidge Center for Arts and Sciences. Her work has been shown throughout the country in a number of exhibitions including the Hickory Museum of Art, Holter Museum of Art, Asheville Art Museum, and Mobile Museum of Art.
Leslie lives in the mountains of North Carolina with her husband, artist Hoss Haley, and their son James.